Welcome to the new CLEAPSS Science Website
What is CLEAPSS
CLEAPSS resources give teachers ideas for exciting and engaging practical activities that fire pupils' imaginations and then, unlike many other sources of ideas, go on to show teachers and technicians in detail how to translate the ideas into safe and exciting experiences in the classroom. CLEAPSS advice and documentation is recognised by the Health and Safety Executive and the Department for Education..
(read more)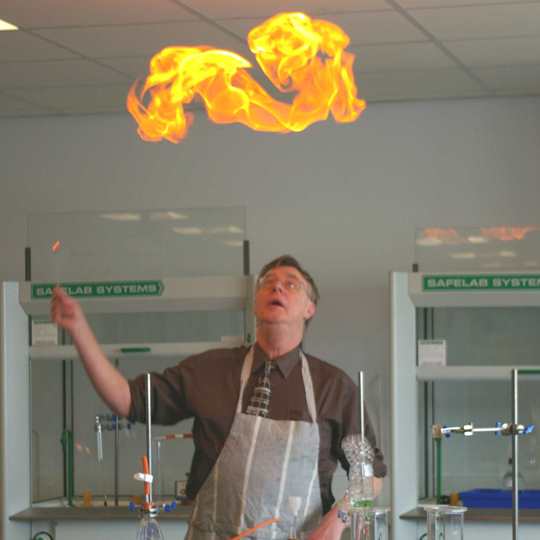 Latest news from CLEAPSS..
New CLEAPSS online training - Health & Safety for Science Technicians
This FREE unmediated self-study course consisting of 4 video presentations interspersed with DIY tasks.  
For further details please click
here
. 
After completing the course you may wish to sign up to our follow-on live online
H&S course
.
COVID-19 (Coronavirus) in Schools
Updated : 15th June 2022
Removed requirement to sanitise eye protection for schools in Northern Ireland, this matches latest guidance released for schools in Northern Ireland. 
No other changes in guidance.

Pupils visiting from primary schools
As we move into the season of pupils visiting their nearby secondary schools, we have produced a suite of new guidance to support teachers and technicians in what could and shouldn't be done in these sessions.
Cheek cells, can we do it? YES WE CAN!
All practicals, including cheek cells, breathing or blowing activities and experiments with saliva should now be resumed as part of normal school practice. 
However, if pupils are required to wear face coverings IN LESSONS then we recommend that check cells and activities are NOT carried out.
See GL343 – Guide to doing practical work during the COVID-19 pandemic for more details
Student Safety Sheets - 2022 Update
Are you about to print off a set of Student Safety Sheets?
Then you may want to wait, we are in the process of fully revising them and plan to publish this all new edition in the Autumn term.
---

Handbook - Section 11 - General Science Topics
Guidance on general topics including chromatography and electrophoresis, cryogenics, soldering and electrical connections, electrolysis, glass working, glues and adhesives, photography, using pupils a..
more
---

PS005 - Waste disposal contractors
A regularly updated list of contractors that will remove hazardous and other waste materials from schools. Includes brief advice on choosing the most appropriate. 
---

GL366 - Agars for diffusion
Guidance outlining the different types of indicator used for making agar cubes for diffusion. It covers how to prepare, use and store the agar. 
---

GL016 - Technical justification showing how L93 risk assessments meet the suitable and sufficient requirements of the Approved Code of Practice L121
Regulation 8 of the Ionising Radiations Regulations 2017 (IRR17) requires the employer to undertake a suitable and sufficient prior risk assessment before commencing a new work activity involving ioni..
more
---

GL272 - Sterilising for microbiology
Covers how to steam sterilise and dry sterilise resources for microbiology.
---