Welcome to the new CLEAPSS Science Website
What is CLEAPSS
CLEAPSS resources give teachers ideas for exciting and engaging practical activities that fire pupils' imaginations and then, unlike many other sources of ideas, go on to show teachers and technicians in detail how to translate the ideas into safe and exciting experiences in the classroom. CLEAPSS advice and documentation is recognised by the Health and Safety Executive and the Department for Education..
(read more)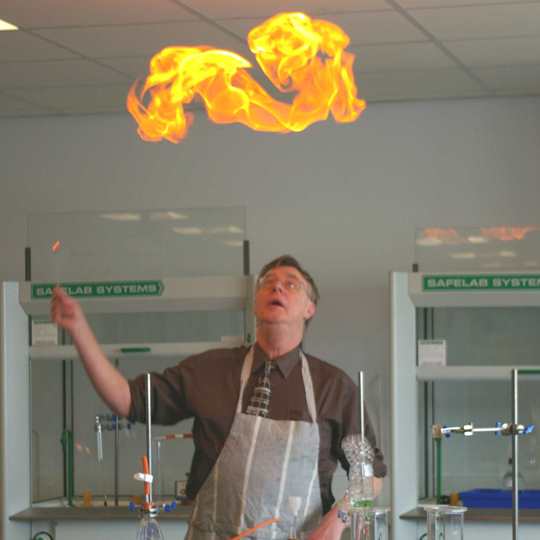 Latest news from CLEAPSS..
COVID-19 (Coronavirus) in Schools
Updated : 2nd March 2022
Various minor revisions to align with new DfE and HSE guidance.
Cheek cells, can we do it? YES WE CAN!
All practicals, including cheek cells, breathing or blowing activities and experiments with saliva should now be resumed as part of normal school practice. 
However, if pupils are required to wear face coverings IN LESSONS then we recommend that check cells and activities are NOT carried out.
See GL343 – Guide to doing practical work during the COVID-19 pandemic for more details
Student Safety Sheets - 2022 Update
Are you about to print off a set of Student Safety Sheets?
Then you may want to wait, we are in the process of fully revising them and plan to publish this all new edition in the Autumn term.
HSE inspection of schools holding radioactive sources in science
The Health and Safety Executive's Field Operations Division has contacted CLEAPSS (and SSERC for Scotland) to explain it is undertaking a programme of inspections across England, Wales and Scotland to see how schools manage the safe use and storage of the radioactive sources used in science teaching. An inspection programme may come as a surprise to some when you consider the relatively low risk of these sources compared to those used in universities and hospitals. But low risk does not mean exemption from inspection.
The HSE has accepted our offer to provide their inspectors with an introduction to the importance of radioactive sources in practical science, and to explain the approach taken in CLEAPSS
Guide L93
on how to manage the sources safely and meet all the regulatory requirements.
You can read more about this on the HSE eBulletin page
here
.
Ahead of the inspection programme, our advice for schools in England and Wales is to go through the checklist 16.1 in the latest edition of L93 and make sure they have the appropriate arrangements in place.
If you have any questions regarding this, if possible please email
science@cleapss.org.uk
rather than calling the helpline, unless it is urgent, as we are in the middle of moving into our new offices at the moment.
CLEAPSS is moving!
We will be moving to our new offices
The CLEAPSS Helpline number will stay the same and will remain operational during and after the move. 
We will however have reduced capacity to respond during this time.
Thank you for bearing with us.
---

GL278 - Sub-culturing for class use
Describes how to sub-culture for class use, and provides three methods of sub-culturing.
---

DL223 - Customisable Model Health and Safety Policy for Science Departments
Can be easily used by a science department to produce its own H&S policy
---

PP122 - Lithium Sodium Potassium Reacting with Water
This procedure is required by every examination specification, as it illustrates the change in reactivity in Group 1 of the Periodic Table. However, the reaction between sodium and potassium with wate..
more
---

GL238 -Top twenty hazards in science
CLEAPSS carries out many audits of Science departments. Through these we have identified hazards which are common across a range of schools.CLEAPSS does offer a costed audit service where we visit you..
more
---

PS046: Radiation Protection in School Science: Guidance for Employers
This guide replaces PS046a and PS046b and offers advice on radiation employers seeking to consult and appoint a radiation protection adviser (RPA). 
---