Welcome to the new CLEAPSS Science Website
What is CLEAPSS
CLEAPSS resources give teachers ideas for exciting and engaging practical activities that fire pupils' imaginations and then, unlike many other sources of ideas, go on to show teachers and technicians in detail how to translate the ideas into safe and exciting experiences in the classroom. CLEAPSS advice and documentation is recognised by the Health and Safety Executive and the Department for Education..
(read more)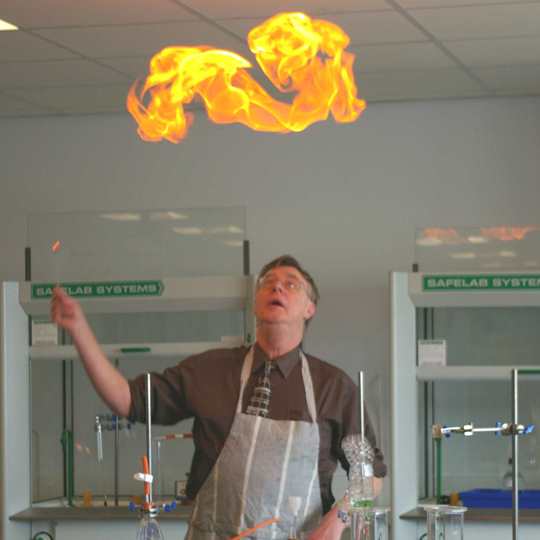 Latest news from CLEAPSS..
COVID-19 (Coronavirus) in Schools - Updated 21/09/2020
Returning in September Guidance 

We have now published all our updated and new guidance for schools returning in September. The key guide to read is
GL343
, this guide should be read alongside all of our COVID-19 guidance (see below for list).
The CLEAPSS office is open Monday to Friday 8.30am to 4.30pm.
We will continue to answer ALL helplines, and continue to develop both emergency guidance for COVID-19 and longer term developmental guides across all the areas we cover.
If you have an EMERGENCY Helpline i.e. pupil with chemical in their eye, a chemical spill, or radioactive issue. 

Then please call 07565 114 059 (available 8.30am-5.30pm weekdays)
We are expecting the Helpline to be very busy, so if you have a COVID-19, technical or subject based question. Then please email it to
science@cleapss.org.uk
. 
Please do NOT call the above mobile number with routine questions.
DT Staff should refer to our
DT website
for their guidance.
Renew your membership now!
Overseas school membership is due to expire on 30/09/2020. 
Please check your email box (including your junk mail) & confirm you wish to continue membership from 1st October 2020 by clicking on the link.
New CLEAPSS Online Training - Radiation Protection Supervisor - Part A
We have limited number of places available for this three-hour online course which covers the basics of radiation protection in a school setting and provides an introduction to the role of the Radiation Protection Supervisor in schools (RPS - Schools).
Part B of this programme is a hands on, face to face course, designed to develop participants confidence in working with radioactive materials and will be held later this year.
An online refresher course for those who have already completed RPS training will be held later this term.
The online local authority renewal process
We have produced a video to support local authority officers who are completing their CLEAPSS membership returns using the new online system.
You can view the video
here
CLEAPSS Podcasts
CLEAPSS is now running a new series of Podcasts, the first edition is with Dave Parry our DT adviser discussing the new DT MRATs (Hazcards for DT).
Episode 2 is now live and about radioactive sources and your RPO/RPA.
Episode 3 is now live and with 'Uncle' Bob all about Hazcards and SDS's.
Episode 4 is now live, and all about things that are alive! An episode all about microbiology with Ai-Linh.
We intend to record more of these in the near future.
---

3D print file for replacement end cap for GM tube
This zip-file contains a 3D model - GMEndCap.stl - see GL361 for more details. 
---

GL361 - 3D printed GM Tube replacement end cap
This guide contains information about how to 3D print a replacement protective end cap for your ZP1481 GM tube. 
---

GL343 – Guide to doing practical work during the COVID-19 Pandemic – Science
Guide to doing practical work during the COVID-19 Pandemic – Science
---

Chemical Store Poster - Bulletin 169
Hi Res version of the poster from Bulletin 169
---

Bulletin 169 - Autumn 2020
- From the Director (the importance of practical work)- Return to school September 2020 guidance- Keeping your membership up to date- Alternatives to cheek cells- Food tests- Chemical store poster (go..
more
---