Welcome to the new CLEAPSS Science Website
What is CLEAPSS
CLEAPSS resources give teachers ideas for exciting and engaging practical activities that fire pupils' imaginations and then, unlike many other sources of ideas, go on to show teachers and technicians in detail how to translate the ideas into safe and exciting experiences in the classroom. CLEAPSS advice and documentation is recognised by the Health and Safety Executive and the Department for Education..
(read more)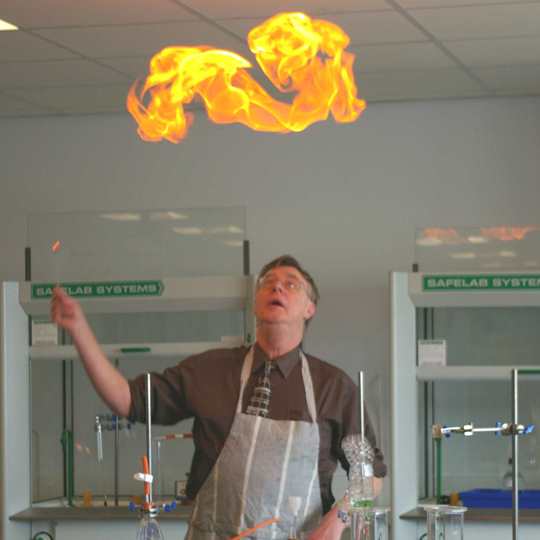 Latest news from CLEAPSS..
End of Term - Lab Checks
The end of term is an ideal time to do some basic checks in your labs. Aside from the more basic checks like are the sinks clear, and do the taps work. There are more important checks to be made...
All benches / worktops / bollards which have gas taps should not allow any movement (in any direction). CLEAPSS has repeatedly found loose worktops, benches and bollards which can wobble and move considerable amounts. This can damage the supply gas pipe, which in turn could lead to a gas leak. 
If you do discover any movement, then the gas in that lab should be turned off and the gas should not be used until repairs have been made to stop the movement. After these repairs the gas system should be checked by a Gas Safe engineer. (This is often called a tightness test)
If you do discover a gas leak in a lab then turn off the gas supply within the lab, then follow the school procedure(s) to evacuate the building and call 0800 111 999 (if you have LPG then call the supplier number, FLOGAS 03457 200100 or CALOR GAS 03457 444999). 
Remember do not use any flames, or operate any switches on or off, and do not use your mobile phone until you are outside.
Technicians' Workshop
Looking for an idea for a workshop at your next technician network meeting or conference?Then click
here
to learn more about the Technicians' Workshops organised by SciLabware. They're designed to help improve knowledge and understanding of the features and benefits of glass and plastic laboratory ware.
New Physics Courses
As noted in
Bulletin 165
– please see the links below for more information about our Arduino and Practical Radioactivity courses running at CLEAPSS HQ this Summer term. 
Spam Emails
CLEAPSS have been made aware of spam purportedly coming from CLEAPSS accounts with links and / or attachments to invoices. All CLEAPSS emails are all digitally signed and any spoofed / spam emails should be rejected as fake by your mail server if it has been configured correctly, however many aren't!!
In light of this, please make sure you check that the email is from a genuine before following any links or opening attachments.
Signs of fake emails:
you weren't expecting the email / invoice.
the from email address does not match the from name.
phone numbers in the footer are not the CLEAPSS number ( 01895 251496 )
check by hovering over a link, CLEAPSS only uses WorldPay for online payments.
the English or grammar is poor, or amounts requested are in dollars.

If in any doubt about the authenticity of any CLEAPSS email then please contact us BEFORE opening any attachments or following any links.
CLEAPSS at ASE Conference 2019
Once again CLEAPSS had a large presence at the 2019 ASE Conference in Birmingham.
Find all the resources from our workshops and talks
here
.
---

A guide to What is CLEAPSS
Want to know what CLEAPSS is and what it does? Then read this short guide.
---

PP064 - Ammonia chemistry in a petri dish
A microscale activity which demonstrates a number of chemical reaction with ammonia. Because this is microscale, quantities of chemicals used are tiny,  making disposal and clearing up very easy.
---

GL216a Code for Arduino voltage sensor
The zip folder contains the Arduino code for the voltage sensor detailed in GL216 Make-it guide - voltage sensor for Arduino-controlled data logger.
---

PX025 - Cobalt(II) compounds
Brief risk assessment guidance and experimental notes for a range of activities involving cobalt(II) compounds.
---

RB030 - Cobalt (II) Solutions
Guidance on preparing, labelling and storing cobalt (II) solutions and other cobalt(II)-containing reagents. Includes information on cobalt(II) chloride indicator papers (for moisture/humidity detecti..
more
---