Welcome to the new CLEAPSS Science Website
What is CLEAPSS
CLEAPSS resources give teachers ideas for exciting and engaging practical activities that fire pupils' imaginations and then, unlike many other sources of ideas, go on to show teachers and technicians in detail how to translate the ideas into safe and exciting experiences in the classroom. CLEAPSS advice and documentation is recognised by the Health and Safety Executive and the Department for Education..
(read more)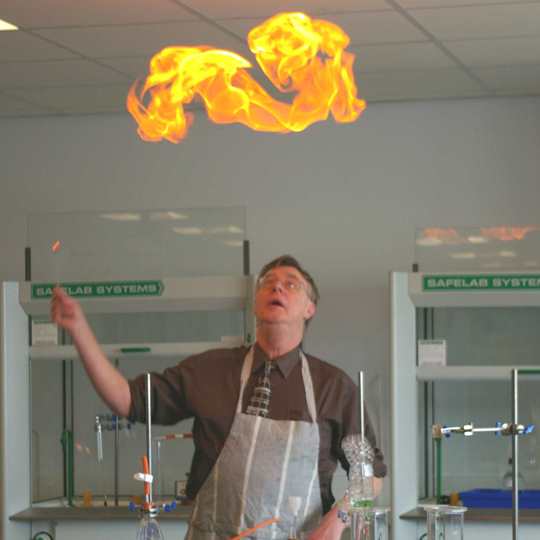 Latest news from CLEAPSS..
COVID-19 (Coronavirus) in Schools - Updated 01/06/2020
Latest News
CLEAPSS office is  closed following government advice.
We will however continue to answer ALL helplines, and continue to develop both emergency guidance for COVID-19 and longer term developmental guides across all the areas we cover.
If you have an EMERGENCY Helpline i.e. pupil with chemical in their eye, a chemical spill, or radioactive issue. 
Then please call 07565 114 059 (available 8.30am-5.30pm weekdays)
If you have a more routine question e.g.  what is my password, can I pay an invoice, or technical question. Then please email it to
science@cleapss.org.uk
. 
Please do NOT call the above mobile number with routine questions.
Primary schools should refer to our
primary website
for their guidance on managing practical work.
DT Staff should refer to our
DT website
for their guidance on managing practical work.
Please continue to check this web page for updates, and follow our Twitter account (
@CLEAPSS
) for more updates.
Following government advice, CLEAPSS has cancelled all our courses until the end of July. 
We have now created a series of new guides to support schools during the COVID-19/Coronavirus Pandemic :-
CLEAPSS Podcasts
CLEAPSS is now running a new series of Podcasts, the first edition is with Dave Parry our DT adviser discussing the new DT MRATs (Hazcards for DT).
Episode 2 is now live and about radioactive sources and your RPO/RPA.
Episode 3 is now live and with 'Uncle' Bob all about Hazcards and SDS's.
We intend to record more of these in the near future.
New Log In Details
The new login and password has been sent to members via the printed bulletin.
As part of the move to online membership processing, direct members of CLEAPSS (ie not via a local authority or other brokering organisation) will have been sent a renewal notice by e-mail. We have sent out over 2500 electronic requests and so far almost half of those we have contacted have successfully navigated the online membership renewal process.If the renewal request has been passed to you by someone else and you are not sure what to do next, give us a ring (01895 251496) and ask us to resend the renewal directly to you. That way you can simply click on the link in the e-mail to access the online portal. 
If your school has not renewed its membership by the end of January, membership will lapse and your password will stop working.
Salters' National Awards for Science Technicians 2020
DEADLINE FOR APPLICATIONS EXTENDED TO  MONDAY 15TH JUNE 2020.  These awards are run by The Salters' Institute in collaboration with CLEAPSS and SSERC.  The aims of the awards are to highlight the important role that school & college technicians play in enabling high quality practical work in science and to promote & support the professional learning & upskilling of technician teams.  For full details and to apply online click
here
.  
CLEAPSS at the ASE Conference 2020
CLEAPSS once again had a large presence at the ASE Conference.
We had a stand (AS10) where you could collect your latest #CLEAPSSMug, please tweet pictures of your mug in use (via @CLEAPSS).
We ran lots of workshops, which you can find exact detail of
here
. 
The resources linked to the workshops you can find
here
.
---

Glittering Oil Drop Experiment
Glittering Oil Drop Experiment
---

GL172a – Make your own spark counter - 3D Printer File
Make your own spark counter - 3D Printer File.Please note the person printing this will need to decide on the settings – and the type of printer. 
---

GL172 – Make your own spark counter.
The spark counter is a piece of equipment highly recommended in practical demonstrations of radioactivity. It is a device designed for detecting alpha radiation and for demonstrating its ionising char..
more
---

GL343 – Guide to doing practical work in a partially reopened school – Science
Guide to doing practical work in a partially reopened school
---

GL336 – CLEAPSS Advice during the COVID-19 / Coronavirus Pandemic
CLEAPSS Advice during the COVID-19 / Coronavirus Pandemic
---