Welcome to the new CLEAPSS Science Website
What is CLEAPSS
CLEAPSS resources give teachers ideas for exciting and engaging practical activities that fire pupils' imaginations and then, unlike many other sources of ideas, go on to show teachers and technicians in detail how to translate the ideas into safe and exciting experiences in the classroom. CLEAPSS advice and documentation is recognised by the Health and Safety Executive and the Department for Education..
(read more)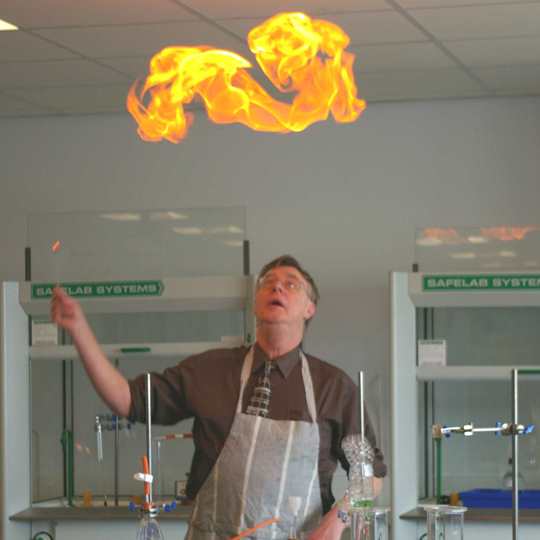 Latest news from CLEAPSS..
COVID-19 (Coronavirus) in Schools
Update - 14th July

CLEAPSS has fully revised and updated is guidance for practical work during the COVID-19 pandemic. 
This new guidance should only be used in schools working to the new 'Step 4' onwards DfE guidance in England, or from September in Wales or Northern Ireland.
For reference a legacy edition of our previous edition of GL343 is available
here
, for any schools still operating under either current guidance in Wales or Norther Ireland or 'applies until Step 4' DfE Guidance in England.
The CLEAPSS office will remain open through the school holidays, our office hours are 8.30am - 4.30pm
New CLEAPSS online training - Health & Safety for Science Technicians
This is an unmediated self-study course consisting of 4 video presentations interspersed with diy tasks.  As it is a trial the course is free of charge. Your feedback is important as it will help with the development of this and other online courses, so please leave feedback when prompted at the end of the course.
For further details please click
here
. 
After completing the course you may wish to sign up to our follow-on live online
H&S course
.
***ACTION NEEDED!!***Associate membership renewals -For those memberships due to expire on 30th September 2020
Please be advised all emails requesting confirmation of pupil numbers for membership renewal have been issued in week, 21-27th September 2020.
Once you have submitted pupil numbers, an invoice will be raised and emailed to the contact identified by yourselves for processing.
This does NOT affect schools who are members via a local authority.
Renew your membership now!
Overseas school membership is due to expire on 30/09/2020. 
Please check your email box (including your junk mail) & confirm you wish to continue membership from 1st October 2020 by clicking on the link.
New CLEAPSS Online Training - Radiation Protection Supervisor - Part A
We have limited number of places available for this three-hour online course which covers the basics of radiation protection in a school setting and provides an introduction to the role of the Radiation Protection Supervisor in schools (RPS - Schools).
Part B of this programme is a hands on, face to face course, designed to develop participants confidence in working with radioactive materials and will be held later this year.
An online refresher course for those who have already completed RPS training will be held later this term.
---

PP009 - Confirmation tests (microscale) for halides, carbonates and nitrates
In this microscale procedure, students can investigate confirmatory tests for common anions. It provides good talking points for the diffusion of gases and appearance of coloured halos. Students can w..
more
---

PP179 - Worksheet
Word version of the worksheet used in PP179
---

PP179 - The reaction between iron and sulfur, extension tests, students' version
The reaction between iron and sulfur, to produce iron(II) sulfide, is described in PP079. The reaction between iron and sulfur – students' version.This document describes a range of chemical tests tha..
more
---

PP079 - The reaction between iron and sulfur - Students' version
The reaction between iron and sulfur, to produce iron sulfide, is cited in many textbooks and other resources as a good demonstration of the difference between mixtures and compounds. A key distinguis..
more
---

PP141 - The thiosulfate-acid reaction: rate and temperature
Various monitoring techniques can be used to investigate how different factors affect the rates of reactions. The thiosulfate-acid 'disappearing cross' activity is an example of a clock reaction with ..
more
---