Welcome to the new CLEAPSS Science Website
What is CLEAPSS
CLEAPSS resources give teachers ideas for exciting and engaging practical activities that fire pupils' imaginations and then, unlike many other sources of ideas, go on to show teachers and technicians in detail how to translate the ideas into safe and exciting experiences in the classroom. CLEAPSS advice and documentation is recognised by the Health and Safety Executive and the Department for Education..
(read more)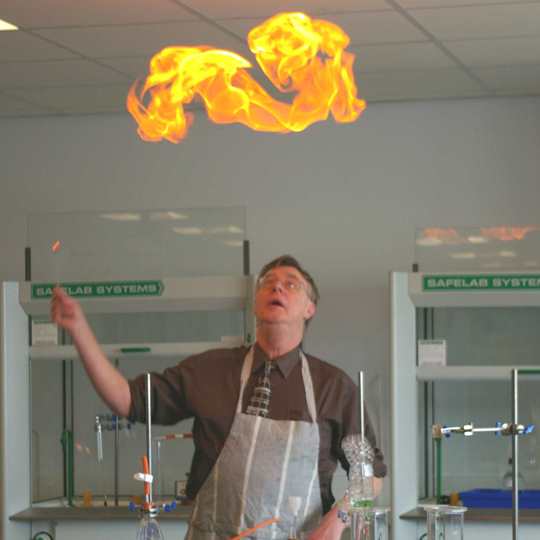 Latest news from CLEAPSS..
Issues with benches in Science labs
CLEAPSS is becoming increasingly aware of issues with benches in Science labs. The issue is with excessive movement of benches which contain gas pipes. 
We are concerned that where benches move a lot, the gas pipes may become damaged which could lead to a gas leak.
An example of such excessive movement can be seen on
this video
.
CLEAPSS recommends that staff check all benches in their labs, if you do find excessive movement please refer to CLEAPSS
Guide GL238
(Point 2) for what to do next.
Student Safety Sheets - 2018 CLP Edition
Hot weather - check your chemicals
As temperatures rise, remember to keep an eye on your chemicals and respond appropriately if you notice any problems. See
GL246
,
GL247
and
GL252
for advice on doing this safely. 
However, further to our recent Bulletin article, some schools have asked us about bottles of chemicals from different suppliers. Some of these are fine – they may be a different type of plastic which is more durable with whichever chemical they contain. If in doubt, contact your supplier or the CLEAPSS Helpline.
HSE Radioactive Sources Registration
Since 6 February this year, employers who have employees using radioactive sources must notify, register or obtain consent from the HSE before working with the sources. 
This includes schools. Some school employers don't realise that the small teaching sources used in school science fall into the registration category. If you are not sure if your employer has registered the use of your sources, it would be sensible to check. Our advice is that the employer should get the registration undertaken promptly, even if late. 
The HSE have indicated that they are not minded to take action on late registrations at the moment. We have produced a guide,
GL258
, which takes you through the registration process. 
We advise employers use this guide because some of the registration questions are not straightforward. 
CLEAPSS on Tour
CLEAPSS is set to appear at many different and varied conferences this summer, hopefully we will see some of you at these events.
ASE Technicians Conferences
Hatfield - 14th June
London (IOE) - 18th May
York (national conference) - 5th & 6th July
Avon Science Techs Conference - 13th July
Birmingham Techs Conference - 15th June
Clement Danes Conference - 29th June
Leicester Techs Conference - 22nd June
NE/NWSCS Techs Conference Bolton - 23rd May
SLS Lab Show & Conference - 23rd May
---
GL120 - About Hazcards
(14 Jun 2018)
Describes the structure of the CLP Hazcards, and amplifies and explains the safety information which is included on them.
---
---
---
SSS091b - Hazards symbols and other safety signs.
(12 Jun 2018)
Symbols and signs which conform to the Globally Harmonised System (GHS; in use world-wide) regulations on labelling of packaged chemicals. All new chemicals of any sort will display one or more of the..
more
---
---