Welcome to the new CLEAPSS Science Website
What is CLEAPSS
CLEAPSS resources give teachers ideas for exciting and engaging practical activities that fire pupils' imaginations and then, unlike many other sources of ideas, go on to show teachers and technicians in detail how to translate the ideas into safe and exciting experiences in the classroom. CLEAPSS advice and documentation is recognised by the Health and Safety Executive and the Department for Education..
(read more)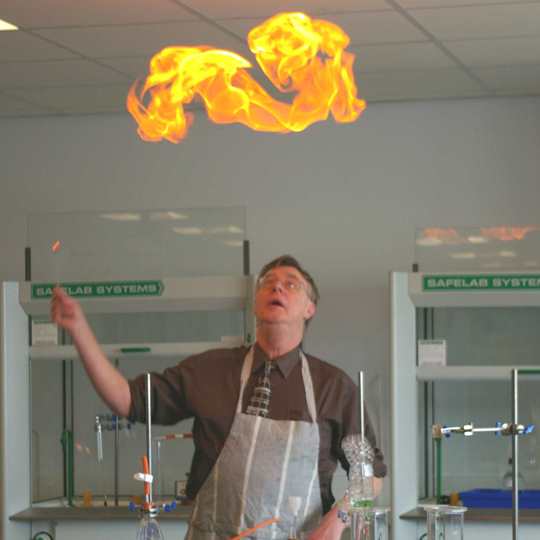 Latest news from CLEAPSS..
COVID-19 (Coronavirus) in Schools - Updated 28/07/2020
Latest News
CLEAPSS office is open Tuesday to Thursday.
We will continue to answer ALL helplines, and continue to develop both emergency guidance for COVID-19 and longer term developmental guides across all the areas we cover.
Returning in September Guidance 
CLEAPSS is currently working with DfE and other agencies reviewing the latest DfE guidance for schools returning in September. 
We will publish our updated guidance in response to this in early August when the DfE confirm that this guidance is being implemented.
If you have an EMERGENCY Helpline i.e. pupil with chemical in their eye, a chemical spill, or radioactive issue. 
Then please call 07565 114 059 (available 8.30am-5.30pm weekdays)
If you have a question about your membership i.e. what is my password, or can I check we are members. Then call our membership line on 07707 543 647 (available 8.30am-5.30pm weekdays)
Please do NOT call the above mobile numbers with routine questions.
Primary schools should refer to our
primary website
for their guidance on managing practical work.
DT Staff should refer to our
DT website
for their guidance on managing practical work.
Please continue to check this web page for updates, and follow our Twitter account (
@CLEAPSS
) for more updates.
Following government advice, CLEAPSS has cancelled all our courses until the end of July. 
We have now created a series of new guides to support schools during the COVID-19/Coronavirus Pandemic :-
The online local authority renewal process
We have produced a video to support local authority officers who are completing their CLEAPSS membership returns using the new online system.
You can view the video
here
Check your chemical store!
One thing to do BEFORE schools shut down for the summer holiday.
Make sure you check the chemicals in the chemical store are secure, not leaking and stored appropriately e.g. ensure there is water surrounding your 2,4-DNP(H).
CLEAPSS Podcasts
CLEAPSS is now running a new series of Podcasts, the first edition is with Dave Parry our DT adviser discussing the new DT MRATs (Hazcards for DT).
Episode 2 is now live and about radioactive sources and your RPO/RPA.
Episode 3 is now live and with 'Uncle' Bob all about Hazcards and SDS's.
Episode 4 is now live, and all about things that are alive! An episode all about microbiology with Ai-Linh.
We intend to record more of these in the near future.
New Log In Details
The new login and password has been sent to members via the printed bulletin.
As part of the move to online membership processing, direct members of CLEAPSS (ie not via a local authority or other brokering organisation) will have been sent a renewal notice by e-mail. We have sent out over 2500 electronic requests and so far almost half of those we have contacted have successfully navigated the online membership renewal process.If the renewal request has been passed to you by someone else and you are not sure what to do next, give us a ring (01895 251496) and ask us to resend the renewal directly to you. That way you can simply click on the link in the e-mail to access the online portal. 
If your school has not renewed its membership by the end of January, membership will lapse and your password will stop working.
---

PS005 - Waste disposal contractors
A regularly updated list of contractors that will remove hazardous and other waste materials from schools. Includes brief advice on choosing the most appropriate. 
---

GL349 - Gloves for chemical protection: Buying guide
Gloves are not routinely required by technicians, teachers or students carrying out practical work in science. Wear them only when either CLEAPSS guidance requires it or your own risk assessment deems..
more
---

SRA021 - Using super-heated steam to ignite a match and char paper
Instructions, including risk assessed control measures, to safely demonstrate just how hot steam can become.
---

Handbook - Section 20 - Reference Tables
An extensive range of reference tables and data covering everything from atomic masses to unit conversion.
---

DL223 - Customisable Model Health and Safety Policy for Science Departments
Can be easily used by a science department to produce its own H&S policy
---