Welcome to the new CLEAPSS Science Website
What is CLEAPSS
CLEAPSS resources give teachers ideas for exciting and engaging practical activities that fire pupils' imaginations and then, unlike many other sources of ideas, go on to show teachers and technicians in detail how to translate the ideas into safe and exciting experiences in the classroom. CLEAPSS advice and documentation is recognised by the Health and Safety Executive and the Department for Education..
(read more)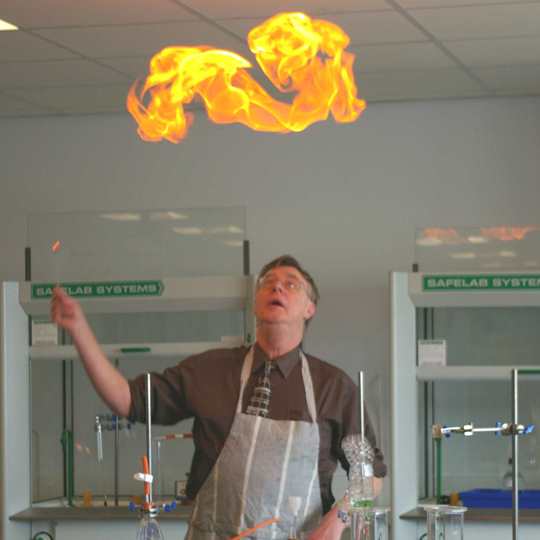 Latest news from CLEAPSS..
Lab Checks - Have you done yours?
The start of term is an ideal time to do some basic checks in your labs. Aside from the more basic checks like are the sinks clear, and do the taps work. There are more important checks to be made...
All benches / worktops / bollards which have gas taps should not allow any movement (in any direction). CLEAPSS has repeatedly found loose worktops, benches and bollards which can wobble and move considerable amounts. This can damage the supply gas pipe, which in turn could lead to a gas leak. 
If you do discover any movement, then the gas in that lab should be turned off and the gas should not be used until repairs have been made to stop the movement. After these repairs the gas system should be checked by a Gas Safe engineer. (This is often called a tightness test)
If you do discover a gas leak in a lab then turn off the gas supply within the lab, then follow the school procedure(s) to evacuate the building and call 0800 111 999 (if you have LPG then call the supplier number, FLOGAS 03457 200100 or CALOR GAS 03457 444999). 
Remember do not use any flames, or operate any switches on or off, and do not use your mobile phone until you are outside.
New edition of CLEAPSS Guide to Radioactive Sources in Schools L93
We have issued a new edition (November 2019) of
L93, 'Managing Ionising Radiations and Radioactive Substances in Schools and Colleges
'.  
There is an accompanying short note,
GL114
, that explains the main changes in this new edition, and what schools need to do. 
The reason for these changes comes mainly from a revision of our risk assessments, in particular the evidence we have regarding repeated failures of home-made protactinium generators. We have also provided more detail on the annual checking and leak-testing of sealed sources.
Findel Product Recall Notice - B8A42390 Ball and Ring
We have recently been made aware of a quality issue concerning the Findel Ball and Ring set B8A42390.
The quality issue was brought to their attention because of a recent complaint received where the ball was heated as directed and subsequently the ball detached from the handle, therefore potentially posing a risk of damage or injury. 
CLEAPSS Technician Training Programme 2020
Dates have now been finalised for the 2020 CLEAPSS Technician Training Programme which will run at The School of Education, University of Bristol, BS8 1JA.  The programme, consisting of 12 one day sessions covering Health & Safety, running a prep room, supporting practical Physics, Biology and Chemistry, will start 3rd March and finish 14th July 2020.  To see dates for all sessions, further programme details and booking instructions, please click
here
.  
CLEAPSS membership renewals
This year CLEAPSS is moving to an electronic renewal system for its associate members*. 
During the next two weeks we will be sending out e-mails with the title 'CLEAPSS Renewal' so keep an eye out for these and follow the instructions carefully. 
This should be straight forward, however to allow time for this new process on its first run through we have made sure that your current password will remain valid until the end of November. 
If you don't receive an e-mail there is no need to panic as you are probably not an 'associate member'. 
*Note this will include individual schools and colleges who subscribe directly to us, suppliers, not for profit organisations and individual members. Schools and colleges that get their membership via a Local Authority, a Multi Academy Trust or other brokering organisation will not be affected. 

---

GL118 - Counter module used on CLEAPSS radioactivity courses
Simple instructions on how to make a usb counter module for displaying the radioactive count from a GM tube onto a convenient projector screen.
---

GL189 - Using low tension and high tension power supplies
Simple, brief guidance on the safe use of these power supplies in schools.
---

GL323 - Safe low-voltage for constructing and using electrical circuits
This guide relates to circuit work carried out by students and teachers constructing electrical circuits that involve accessible uninsulated conductors and connectors
---

CLEAPSS Constitution
This document sets out intended functions of CLEAPSS, and the procedural rules of membership and governance on which CLEAPSS is organised and run.
---

L093 - Managing Ionising Radiations and Radioactive Substances in Schools and Colleges
Provides comprehensive guidance on managing, storing and handling radioactive materials and equipment used for teaching about radioactivity.
---