Welcome to the new CLEAPSS Science Website
What is CLEAPSS
CLEAPSS resources give teachers ideas for exciting and engaging practical activities that fire pupils' imaginations and then, unlike many other sources of ideas, go on to show teachers and technicians in detail how to translate the ideas into safe and exciting experiences in the classroom. CLEAPSS advice and documentation is recognised by the Health and Safety Executive and the Department for Education..
(read more)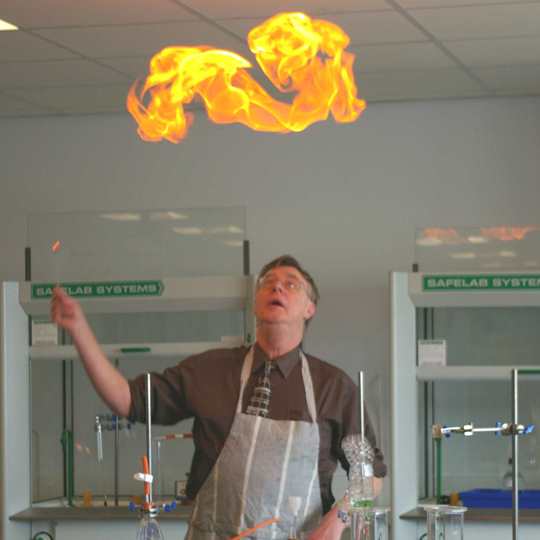 Latest news from CLEAPSS..
COVID-19 (Coronavirus) in Schools
Updated : 20th September
CLEAPSS has fully revised and updated its guidance for practical work during the COVID-19 pandemic.  
Return to schools - Lab checks
Now is a great time to check your labs before getting back into the routine of practical lessons. Simple things like running all the taps, ensures good water quality and refills any sink traps.
You can use the below guides to help recommission your labs to ensure they are safe and effective for practical lessons.
ASE International Journal - Edition 13
New CLEAPSS online training - Health & Safety for Science Technicians
This is an unmediated self-study course consisting of 4 video presentations interspersed with diy tasks.  As it is a trial the course is free of charge. Your feedback is important as it will help with the development of this and other online courses, so please leave feedback when prompted at the end of the course.
For further details please click
here
. 
After completing the course you may wish to sign up to our follow-on live online
H&S course
.
***ACTION NEEDED!!***Associate membership renewals -For those memberships due to expire on 30th September
Please be advised all emails requesting confirmation of pupil numbers for membership renewal are on their way.
Once you have submitted pupil numbers, an invoice will be raised and emailed to the contact identified by yourselves for processing.
This does NOT affect schools who are members via a local authority.
---

GL343 – Guide to doing practical work during the COVID-19 Pandemic – Science
Guide to doing practical work during the COVID-19 Pandemic – Science
---

Bulletin 172 - Autumn 2021
In this terms issue :-From the director: Editorial COVID-19 UpdateCLEAPSS DocumentsUpdate to GL118, Making a GM counter unitCLEAPSS membership renewalsIdeas for knitted modelsAlgal ballsThe CLEAPSS RP..
more
---

PP104 - Preparation and properties of propene
The dehydration of an alcohol to an alkene is commonly studied in post-16 courses.  The chemistry of alkenes is also required at GCSE. In this small-scale method, which can be carried out on the open ..
more
---

GL036 - Make-it guide: reusable palladium on carbon, or palladium on alumina, catalyst tube
This guide explains how to make the catalyst tube used in the practical procedure PP105 - Hydrogenation of propene.
---

Making a catalyst tube
Making a catalyst tube
---