Welcome to the new CLEAPSS Science Website
What is CLEAPSS
CLEAPSS resources give teachers ideas for exciting and engaging practical activities that fire pupils' imaginations and then, unlike many other sources of ideas, go on to show teachers and technicians in detail how to translate the ideas into safe and exciting experiences in the classroom. CLEAPSS advice and documentation is recognised by the Health and Safety Executive and the Department for Education..
(read more)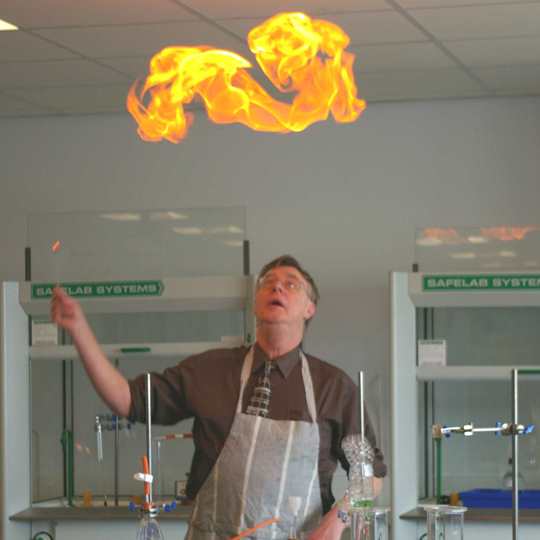 Latest news from CLEAPSS..
COVID-19 (Coronavirus) in Schools
Updated : 20th September
CLEAPSS has fully revised and updated its guidance for practical work during the COVID-19 pandemic.  
New to CLEAPSS ?
Are you new using CLEAPSS resources?
Then we have two new videos to help guide you through, how our resources can help support you in planning the preparations for effective and safe practical lessons.
Return to schools - Lab checks
Now is a great time to check your labs before getting back into the routine of practical lessons. Simple things like running all the taps, ensures good water quality and refills any sink traps.
You can use the below guides to help recommission your labs to ensure they are safe and effective for practical lessons.
ASE International Journal - Edition 13
New CLEAPSS online training - Health & Safety for Science Technicians
This is an unmediated self-study course consisting of 4 video presentations interspersed with diy tasks.  As it is a trial the course is free of charge. Your feedback is important as it will help with the development of this and other online courses, so please leave feedback when prompted at the end of the course.
For further details please click
here
. 
After completing the course you may wish to sign up to our follow-on live online
H&S course
.
---

GL259 - Top tips for algal balls
Useful, brief, guidance on how to grow the alga and make algal balls, which can be used successfully in photosynthesis practicals.
---

GL201 - breathing investigations
Updated from section 14 of the CLEAPSS Handbook, this guide suggests equipment and devices which can be used in breathing investigations. It includes a quite detailed appendix on using a traditional s..
more
---

PS063 - Manufacturers and suppliers of electronic balances
This leaflet is intended to give brief details only of the major manufacturers and suppliers of electronic balances suitable for use in science within secondary schools and colleges.
---

PS042 - Repair and service agents for microscopes
A regularly-updated list of companies which will repair and service microscopes
---

PS014 - Laboratory furniture and fittings, suppliers and manufacturers.
Mainly lists of organisation which make, or can supply, and fit all of the furniture and fittings need to equip a school lab.  supports the guide G14 Designing and planning laboratories. 
---