Welcome to the new CLEAPSS Science Website
What is CLEAPSS
CLEAPSS resources give teachers ideas for exciting and engaging practical activities that fire pupils' imaginations and then, unlike many other sources of ideas, go on to show teachers and technicians in detail how to translate the ideas into safe and exciting experiences in the classroom. CLEAPSS advice and documentation is recognised by the Health and Safety Executive and the Department for Education..
(read more)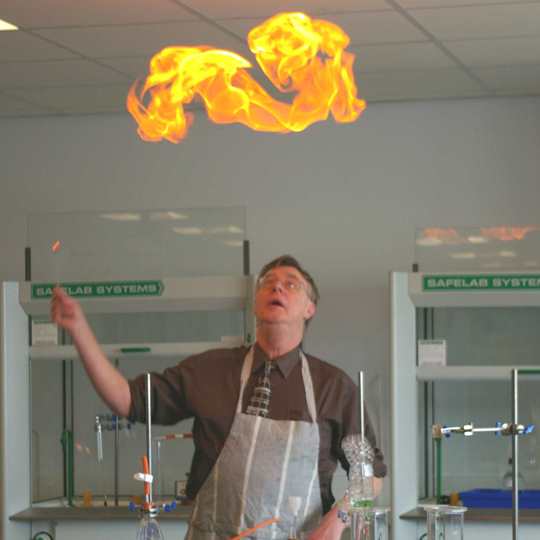 Latest news from CLEAPSS..
CLEAPSS Emails
Our email server is currently not working. 
Please do not use the email or online web-forms for Helplines.
During this time please only use the phone for Helplines on 01895 251496.
CLEAPSS Websites - www.cleapss.org.uk
Our regular visitors may have noticed that our website was hacked late on Thursday afternoon which resulted in users getting an 'account suspended' page. Unfortunately we have so far been unable to recover the website so we have installed a new home page to replace the legacy site. We are currently working on reinstating some functionality, in particular the technicians job service, so please bear with us.
It seems it's a big bad world out there so please accept our apologies while we repair the damage.
Regards from the CLEAPSS IT team.

Gatsby - Good Practical Science report
Gatsby Charitable Foundation launches Good Practical Science report to transform practical science education in England.
The Gatsby Charitable Foundation has launched the Good Practical Science report, outlining ten benchmarks to transform practical science education in England.
The Good Practical Science report details recommendations to help secondary schools achieve world-class science education, even when facing tight budgets.Looking at more than 400 secondary schools in England to gauge the status of practical science, the report also involved visits to world-leading nations including Finland, Germany and Singapore to learn what was done differently internationally.
The report was led by Sir John Holman, Emeritus Professor of Chemistry at the University of York, founding director of the National STEM Learning Centre and a former head teacher and science teacher.
Download the 8 page summary report
here
Download the full report
here
Student Safety Sheets - 2018 CLP Edition
Hot weather - check your chemicals
As temperatures rise, remember to keep an eye on your chemicals and respond appropriately if you notice any problems. See
GL246
,
GL247
and
GL252
for advice on doing this safely. 
However, further to our recent Bulletin article, some schools have asked us about bottles of chemicals from different suppliers. Some of these are fine – they may be a different type of plastic which is more durable with whichever chemical they contain. If in doubt, contact your supplier or the CLEAPSS Helpline.
---
---
---
---
---
PS005 - Waste disposal contractors
(4 Jul 2018)
A regularly updated list of contractors that will remove hazardous and other waste materials from schools. Includes brief advice on choosing the most appropriate. 
---