Welcome to the new CLEAPSS Science Website
What is CLEAPSS
CLEAPSS resources give teachers ideas for exciting and engaging practical activities that fire pupils' imaginations and then, unlike many other sources of ideas, go on to show teachers and technicians in detail how to translate the ideas into safe and exciting experiences in the classroom. CLEAPSS advice and documentation is recognised by the Health and Safety Executive and the Department for Education..
(read more)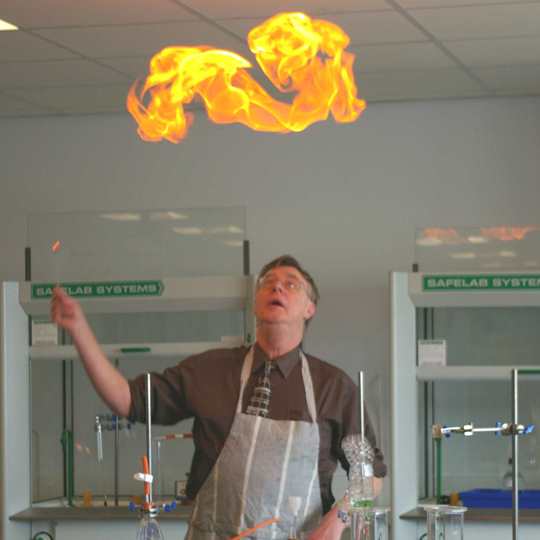 Latest news from CLEAPSS..
Asbestos found in ceramic gauzes
CLEAPSS has been working with the DfE and HSE around the supply of gauzes which contain Asbestos. 
The HSE released
this
press release about the issue.
Customers of each company involved will receive communications from them the issue. We are not in a position to name these 
Please do NOT call us about this issue unless you have read the latest version of all three of the below documents. (GL286, Full HSE Press release and the HSE Guidance document). 
If after reading all three of these documents, and you have discussed the issue with your HoD & Headteacher you still have questions, then of course feel free to call the Helpline.
We have also produced a gauzes buying guide
GL285
. 
Worried you don't have any gauzes you can use, but want to do the classic 'heating water' practical with your Yr 7's? Then use our new guide
PP055
heating water, which is totally gauze free!!!
CLEAPSS at ASE Conference 2019
Once again CLEAPSS will have a large presence at the 2019 ASE Conference in Birmingham.
Come and find us on stand A12 in the tent to collect your free 2019 edition of the CLEAPSS Mug, and to catch up with the CLEAPSS staff.
You can find all of our workshops and sessions
here
.
To book yourself onto the conference click
here
.
New Edition of CLEAPSS Guide L093 - Radioactives in Schools
We have issued a new edition of
L093
. See Guide
GL114
for a list of the changes and what you need to do. 
The main reason for the new edition was the change in the Ionising Radiations Regulations which we explained in our termly bulletins and web site earlier this year.  
If your school holds the typical radioactive sources for teaching, your employer must register the work with the Health and Safety Executive. (See guide GL258.)
However, we have also been reviewing ageing sources that schools have acquired in the past. There is convincing evidence that using Becquerel plates and radium-painted timepieces of this age can no longer be justified. 
The condition has degraded to such an extent that they can no longer be regarded as safe to use. These need to be disposed of L93 gives details of disposal. 
What does good technical support look like in a science department?
How can technicians transform a school's science department? 
Watch this
Gatsby Foundation film
to understand the vital role technicians play in their school and the delivery of good practical science.
CLEAPSS 12 day Technician Training Programme 2018-19
Dates for the 2019 Technician Training Programme which is being run at Leigh College, Wigan, have now been confirmed.  
---

GL309 - Brain and head dissection
A new short guide to the sourcing and dissection of brains and heads.
---

GL240 - Mini Gas Burners in Science
This document provides guidance on the safe use and storage of portable gas burners in science labs or temporary classrooms where piped or mains gas may not be available.This replaces guide L164.
---

PP055 - Changing state - melting ice and heating water
This procedure has often been used as an introduction to Y7 science. A beaker of water is placed on a tripod and gauze and the Bunsen adjusted to deliver a very hot flame. There have been instances of..
more
---

GL308 - Ventilation in chemical stores and prep rooms a summary
This is a summary of what is required in terms of ventilation in chemical stores and prep rooms. 
---

Handbook - Section 13 - Chemistry Topics
Guidance and information on a range of chemicals, chemistry topics and apparatus including handling chemicals, chemical reactions, gas cylinders and syringes, molecular models, plastics, advanced chem..
more
---