Welcome to the new CLEAPSS Science Website
What is CLEAPSS
CLEAPSS resources give teachers ideas for exciting and engaging practical activities that fire pupils' imaginations and then, unlike many other sources of ideas, go on to show teachers and technicians in detail how to translate the ideas into safe and exciting experiences in the classroom. CLEAPSS advice and documentation is recognised by the Health and Safety Executive and the Department for Education..
(read more)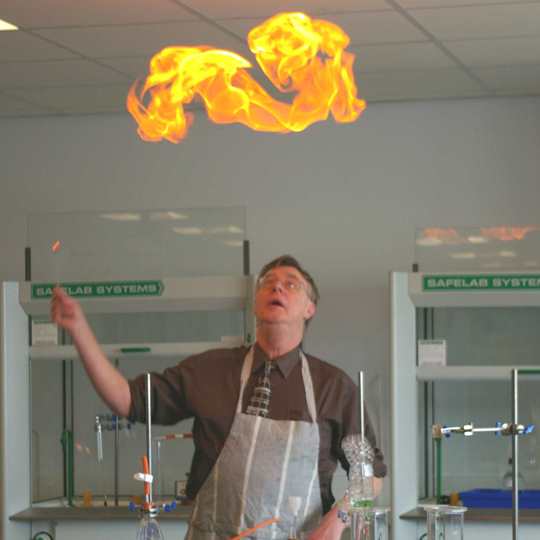 Latest news from CLEAPSS..
COVID-19 (Coronavirus) in Schools - Updated 05/01/2021 : 16:18
CLEAPSS Office is now CLOSED
Following government advice the CLEAPSS Office is now closed until schools reopen
We will continue to answer ALL helplines, and continue to develop both emergency guidance for COVID-19 and longer term developmental guides across all the areas we cover.

If you have an EMERGENCY Helpline i.e. pupil with chemical in their eye, a chemical spill, or radioactive issue. 

Then please call 07565 114 059 (available 8.30am-5.30pm weekdays).
Please do NOT call the above mobile number with routine questions like 'what is my password'

Our key guides during this lockdown are below
The rest of our COVID-19 guidance is still available and relevant for planning for when schools reopen. We will continue to work with DfE / PHE / HSE in developing new / updated guidance to support schools in reopening. 
As we are unable to post out this terms bulletin, your 2020 CLEAPSS log in details will continue to work during the spring term.
If you are unsure of your log in details please either email us on the above address or call 07754 079 973.
<
New CLEAPSS online training - Health & Safety for Science Technicians
This is an unmediated self-study course consisting of 4 video presentations interspersed with diy tasks.  As it is a trial the course is free of charge. Your feedback is important as it will help with the development of this and other online courses, so please leave feedback when prompted at the end of the course.
Please click
here
to start the course. 
After completing the course you may wish to sign up to our follow-on live online
H&S course
.
***ACTION NEEDED!!***Associate membership renewals -For those memberships due to expire on 30th September 2020
Please be advised all emails requesting confirmation of pupil numbers for membership renewal have been issued in week, 21-27th September 2020.
Once you have submitted pupil numbers, an invoice will be raised and emailed to the contact identified by yourselves for processing.
This does NOT affect schools who are members via a local authority.
Renew your membership now!
Overseas school membership is due to expire on 30/09/2020. 
Please check your email box (including your junk mail) & confirm you wish to continue membership from 1st October 2020 by clicking on the link.
New CLEAPSS Online Training - Radiation Protection Supervisor - Part A
We have limited number of places available for this three-hour online course which covers the basics of radiation protection in a school setting and provides an introduction to the role of the Radiation Protection Supervisor in schools (RPS - Schools).
Part B of this programme is a hands on, face to face course, designed to develop participants confidence in working with radioactive materials and will be held later this year.
An online refresher course for those who have already completed RPS training will be held later this term.
---

GL345 – Guidance for science departments returning to school after an extended period of closure
Guidance for science departments returning to school after an extended period of closure
---

PP103 - Making blood smears and staining with Quink
An alternative protocol for staining blood smears.
---

DL248i - Customisable Running a Prep Room:Spreadsheets
A file of Excel spreadsheets for adaptation by technicians.
---

Tech Tip - Contents sheets for Molymod molecular model sets
Some resources to help with checking the contents of Molymod molecular model sets after they've been used in lessons.
---

G271 - Auditing health & safety in a secondary school science department
This guide will help a head of science to ensure that the department is running effectively and safely. It will also be useful to an H&S officer visiting the department on behalf of the employer.T..
more
---