Welcome to the new CLEAPSS Science Website
What is CLEAPSS
CLEAPSS resources give teachers ideas for exciting and engaging practical activities that fire pupils' imaginations and then, unlike many other sources of ideas, go on to show teachers and technicians in detail how to translate the ideas into safe and exciting experiences in the classroom. CLEAPSS advice and documentation is recognised by the Health and Safety Executive and the Department for Education..
(read more)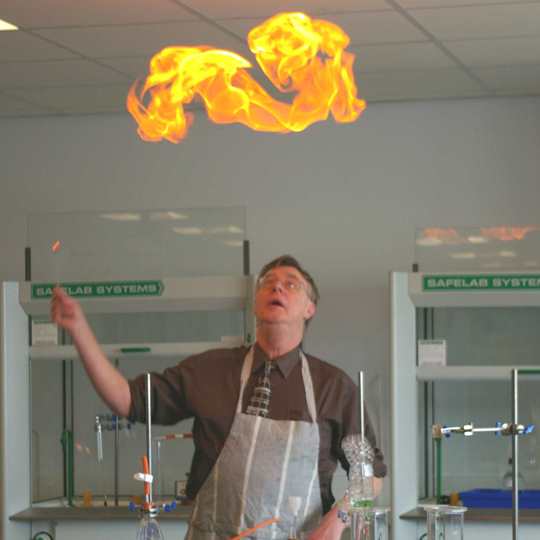 Latest news from CLEAPSS..
Spam Emails
CLEAPSS have been made aware of spam purpotedly coming from CLEAPSS accounts with links and / or attachments to invoices. All CLEAPSS emails are all digitally signed and any spoofed / spam emails should be rejected as fake by your mail server if it has been configured correctly, however many aren't!
In light of this, please make sure you check that the email is from a genuine before following any links or opening attachments.
Signs of fake emails:
you weren't expecting the email / invoice.
the from email address does not match the from name.
phone numbers in the footer are not the CLEAPSS number ( 01895 251496 )
check by hovering over a link, CLEAPSS only uses WorldPay for online payments.
the English or grammar is poor, or amounts requested are in dollars.

If in any doubt about the authenticity of any CLEAPSS email then please contact us BEFORE opening any attachments or following any links.
CLEAPSS at ASE Conference 2019
Once again CLEAPSS had a large presence at the 2019 ASE Conference in Birmingham.
Find all the resources from our workshops and talks
here
.
New Edition of CLEAPSS Guide L093 - Radioactives in Schools
We have issued a new edition of
L093
. See Guide
GL114
for a list of the changes and what you need to do. 
The main reason for the new edition was the change in the Ionising Radiations Regulations which we explained in our termly bulletins and web site earlier this year.  
If your school holds the typical radioactive sources for teaching, your employer must register the work with the Health and Safety Executive. (See guide GL258.)
However, we have also been reviewing ageing sources that schools have acquired in the past. There is convincing evidence that using Becquerel plates and radium-painted timepieces of this age can no longer be justified. 
The condition has degraded to such an extent that they can no longer be regarded as safe to use. These need to be disposed of L93 gives details of disposal. 
What does good technical support look like in a science department?
How can technicians transform a school's science department? 
Watch this
Gatsby Foundation film
to understand the vital role technicians play in their school and the delivery of good practical science.
CLEAPSS 12 day Technician Training Programme 2018-19
Dates for the 2019 Technician Training Programme which is being run at Leigh College, Wigan, have now been confirmed.  
---

GL280 - Making seeded pour plates and lawn plates
Describes techniques needed for pour and lawn plates and when each might be appropriate..
---

PP062 - Paper chromatography of amino acids
Amino acids can be identified and separated using paper chromatography, a cheaper alternative to using TLC. The amino acids need to be stained with ninhydrin to reveal the spots after the run.
---

GL118a - Software for the counter module used on CLEAPSS radioactivity courses
The zip folder contains the software necessary to use the CLEAPSS USB counter module. The full instructions for making the module can be found in Guide GL118. To run the software, you need to download..
more
---

GL118 - Counter module used on CLEAPSS radioactivity courses
Simple instructions on how to make a usb counter module for displaying the radioactive count from a GM tube onto a convenient projector screen.
---

GL268 - Wiring a mains plug by pupils
Brief advice on how to disable a mains electric plug so that it cannot be accidentally inserted into a live socket whilst pupils learn how to wire it correctly.
---